Annette Brown and Gregory Knish opened A'Nets Katch in the spring of 2009 with a vision of changing the way seafood was sold. Instead of Seafood being displayed in the open air and on Ice, we decided to invest in a closed cold air Hill Phoenix Protected glass display unit, like no other offered.

Annette Grew up on the N.C. coast where she learned to Crab, shrimp, oyster, clam and fish the waters with her father.
After the storms of Fran and Hugo, the family permanently re- located back to where she was originally raised in the Raleigh/ Knightdale area. Soon after doing so it was realized the yearn for all the fruits of the sea, that were always prior easily at hand, needed to be in reach again. Thats how we were born!!!
Being Knightdale was one of the fastest growing areas we decided to honor this town first. Our vision is to Franchise and open up as many as four in the area! In the fall of 2011 it quickly became apparent we needed to add the kitchen. This idea was born after offering cooking classes and wine tastings to educate our guests on how to prepare fish in many ways creating a fun and exciting seafood dining experience.

Annette infuses every dish she creates with her knowledge and passion for perfection. Once word of these tasty signature dishes got out, such as the Sloppy crab sandwich, Grilled Mako Shark, Low Country Boils, Calamari, Soft shell crabs, Gator bites and much much more it did not take long to become the best little hidden secret in Knightdale. We even invented , YES we did, the Famous Deep Fried Lobster tails, that hopefully land us a spot in the N.C. State fair in the near future!!!
Very soon in the near future we are also adding our own signature lines of Bang & Bull Sauces that are absolutely once you taste them very hard to eat seafood without them. Also a line of Batters, and 12 blend seasonings, maybe even a N.C. BBQ sauce!!!
Come in and let us steam (No Charge) Crablegs, Shrimp, Blue Crabs and make a mess with us, we'll clean it up!!!
Once they were given room to experiment, and created quite the "outside the box" menu. However, she never lost sight of the passion for creative seafood dishes. They knew that in order to create the dishes they wanted to share with the world, using only the freshest ingredients available, they would have to establish unique restaurant of their own.
Guests have been raving ever since. Diners agree.This is soon to be known as Knightdale's best seafood. We have proudly been honored with Knightdale's and Wendell Business of the month in the same year, 2012!!!

The A'Nets Katch is committed to serving only the finest foods, made with the freshest ingredients. All of our dishes are made to order, no HEAT LAMPS HERE. Our little spot and friendly staff will create your plate,for you to dine in OR Takeout. Please take time and come see us.

We added a Beautiful 24' full Mobile Kitchen can cater to your needs off premise. Weddings, Office functions, Fund raisers or ANY event, call on us and let us come to you!! See our pics , Friend & Like us on A'Nets Katch Facebook where we send out very cool specials and keep you informed on all Progress, Events and Specials. Thank you for taking the time getting to know us, as always it is a pleasure to serve you!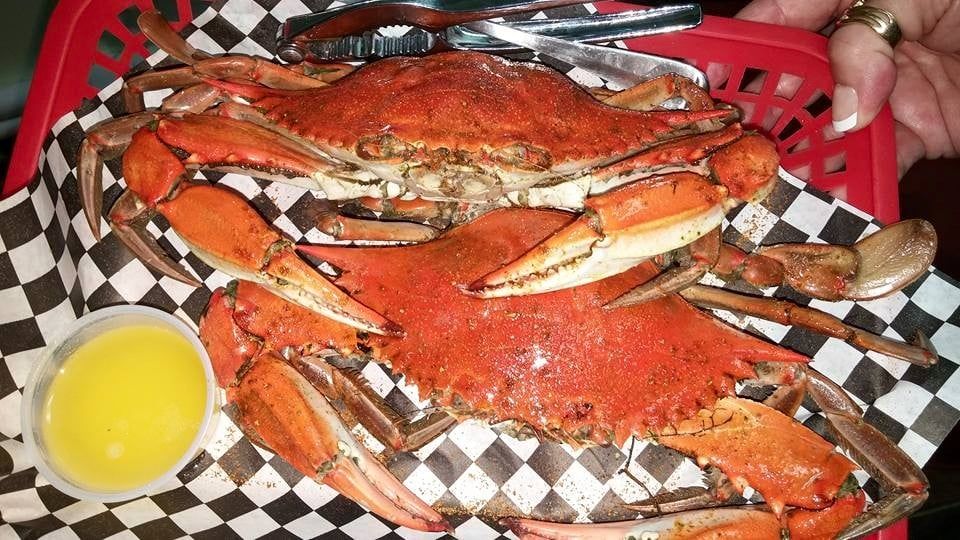 Fresh off the Coast
Jumbo Snow Crab, King Crab, Blue Crab , Dungeness Crab, Stone Crab, Red Claw Crab, Crab Meat by the Pound,   Medium Shrimp, Jumbo shrimp(10-12ct), Mermaide Tails(6-8ct. ) Little  Neck Cams, Middle Neck Clams, Cherry Stone Clams, Mussels, Oysters In the Shell, Pints of Oysters, Grouper, Halibut, Chilean Sea Bass, Snapper, Tilapia, Haddock, Cod, Whiting, Trout, Catfish Flounder, Monk, Mahi , Skate Wings, Tuna, Atlantic Wild Caught Salmon, Soft Shell Crab, Lobster Tails, Sword Fish, Orange Perch, Crabe Cakes, Conch, Stuffed Clams, Stuffed Crab, Scallops, Stuffed Flounders if you do not see what you are looking for Call us we will do our best to find it!

We Have North Carolina OYSTERS!!!!
Bushel, 1/2 Bushel, Peck, & 1/2 Peck
Live Blue Crab are seasonal
Come and Checkout our line up of fresh Seafood that you can take home and cook OR Take a look at our outside the box delicious Menu!!
A' Nets Katch, featuring the Freshest Seafood is located at 2009 Village Park Drive in the heart of Knightdale, NC. The owners, Annette Brown & Greg Knish are Knightdale native with a passion for guest service and outstanding fresh seafood. We have had this concept in mind for years and decided to take a leap of faith and provide the community we live in and loves so much with exactly what it needs.... convenience, great value and one stop shopping!
Not only does A' Nets Katch have a large display case packed with over 75 items ranging from crab legs to oysters to fresh filets and whole fish, it also carries all of the amenities you would need to prepare your feast. Seafood breaders, cajun boils, cocktail and tarter sauces. Be on the look out For Annette's Line of Products, It will Include our famous Bang Sauce, Bull Sauce, Bay Sauce, low Fat tarter Made From Scratch Cocktail and Tarter, 12 blend seasoning and our own Batters all born in our Kitchen!

A' Nets Katch also carries a full off premise beer and wine license in addition to sodas and such.

With the very close and active support of Annette's parents, close family, dear friends, who undoubtedly could see the vision Annette has, Knightdale proudly presents to you what has been years in the making.....A' Nets Katch...Fresh Seafood and Now Prepared Foods!

Get Hooked!